Click on the link to the NEWSLETTER of your choice (in PDF format):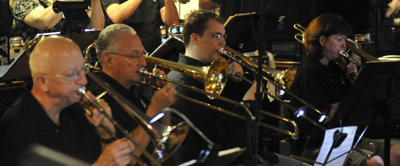 Seven44 Restaurant & Lounge - Monday January 30th 2017, 7:00 pm - 10:00 pm
Formerly the Chicken Deli, this club has a deep jazz history. It's "Your Destination for Great Food, Music and Good Times!". We'll be featuring Denise Leslie and Whitney Ross-Barris on vocals.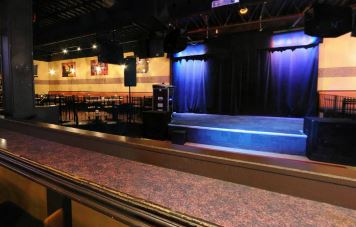 744 Mount Pleasant Rd., Toronto.
Big Band Open Mic - Saturday April 8th, 7:00 pm
It's an annual event that draws some of Mississauga's top vocal talent...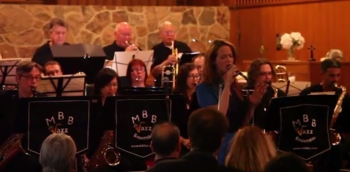 Cooksville United Church, 2500 Mimosa Row, Mississauga
This article in "The Wholenote" covers our latest album: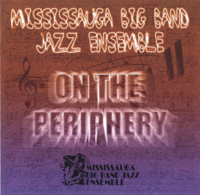 "Big bands don't rule the jazz roost nowadays but they're often worth a listen, as is the case with Mississauga Big Band Jazz Ensemble – On The Periphery , which offers 14 tunes and 73 minutes of classy, sprightly entertainment recorded live at Arnold's Sports Bar in Oakville. The opening Steamsville is brisk and bright with gritty alto by Gary Martin, who also shines on Aluminum Baby. Section work is mostly splendid though soloists vary widely in ability (10 players get solo opportunities). The ensemble sounds best on relaxed material, especially well-worn standards, but it can swing hard and clearly enjoys challenging choices, including pieces from Burt Bacharach, the Average White Band and Charlie Mingus. Vocalist Catherine McGregor holds her own on four songs." - Geoff Chapman, The Wholenote
The Mississauga News' reporter John Stewart (not that Jon Stewart!) produced this article about our collaboration with local singing star Glenn Chipkar:
"Big Band Jazz Meets Crooner" - May 2013
Big Band Open Mic - April 20, 2013
Maybe it doesn't look like your typical jazz club... but for one night it will be! And it's a beautiful club with ethereal acoustics - the Bloor St. United Church. The Mississauga Big Band Jazz Ensemble presents 12 new and exciting singers at the annual Big Band Open Mic, hosted by Bloor Street United Church, 300 Bloor St. West, Toronto.
For a paltry $20, you will listen to the voices of the future in this vintage hall against the backdrop of a great big band.
We are so thrilled to be playing in this wonderful building - and to be presenting such an exciting array of emerging talents, Here's the line-up of vocalists that you'll be seeing: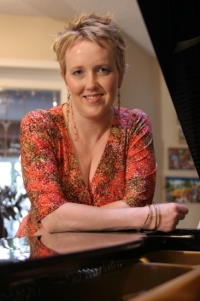 Carolyn Lykkemark is a professional singer and a private voice & piano teacher who lives in Mississauga. Over the course of a career that has spanned three decades, Carolyn has performed in operas, dinner theatre, solo concerts and festivals. Carolyn has created and produced a number of stage shows, most recently a One-Woman show "My Life In Rooms". In 2009, she showcased her cabaret-style musical comedy, "Saucy Wenches in the Trenches" at the Toronto Fringe Festival, which received rave
reviews and a 4 Star rating from Eye Weekly. In 2008, Carolyn released her long-awaited debut CD, "Seeds Of Me". The album was recorded over a period of 10 years, showcasing her love of pop and Broadway. There are songs written by some of her favorite songwriters ranging from Carole King and Jewel to Rogers & Hart and Stephen Sondheim, as well as some of her own. Visit www.CarolynLykkemark.com to learn more and hear a sample of Carolyn's singing.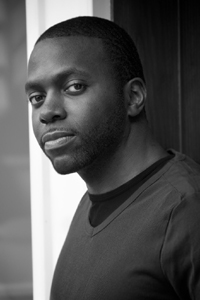 Andre is a real dynamo! He's an actor, singer, dancer and musician. Trained in the Humber College Acting program, he has worked on the stage in Robin Givens' production of "Joy In The Morning", Andrew Pasieka's "The Cross" and the Hassell Productions version of "The Lion, The Witch and The Wardrobe'. His film/television credits include "Everything Happens For a Reason" and "The Love Guru". And he's just completing his first studio album!
This 2012 MARTY People's Choice award winner is a tenor with a Vocal Jazz diploma who excels at "scat" and harmony. He covers dance styles from Hip Hop to tap. To keep up with his latest projects, visit http://andreanthony.net/ !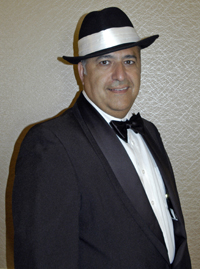 Born and raised in Hamilton, Ben Agro has lived in Brantford since 2007. His parents Filippo and Angela emigrated from Sicily - so family events would feature Italian songs, but often included the music of Dean Martin, Frank Sinatra, Al Martino, Mario Lanza, Luciano Pavarotti and even Elvis Presley.
A Building Inspector by profession, Ben's co-workers started calling him "The Singing Inspector". He performed at occasional charity functions, gradually building his repertoire, image and presentation. He entered singing competitions and was always a top-5 finalist, receiving many compliments and loads of encouragement. He now performs as a Tribute Artist to Dean Martin and Frank Sinatra for Corporate Functions, Charity Events, Canadian Legions, Retirement Homes, Weddings, Birthday Parties, Anniversary Parties, Christmas Parties Restaurants and Bars. Check out his past performances on www.starnow.ca/benagro. For bookings, call (519)304-0719 or e-mail This email address is being protected from spambots. You need JavaScript enabled to view it..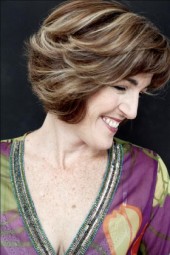 Growing up in east Toronto, Denise gained experience singing in choirs and received formal piano training. It was not until later in life, while living in Calgary, Alberta, after having her 3rd child that a singing career really began. In 2003 Denise auditioned and earned a spot in the Calgary Choral's alto section. "Artistic Director Brian Farrell put together a wonderful Ray Charles tribute show for us in 2004, for which I was given a couple of really challenging but fun scat solos that stood out. After some vocal workshops, lessons, a sold-out show at Calgary's Beatniq Jazz Club I was hooked, and my journey as a jazz vocalist was well under way." Now living in Mississauga, Denise has been gigging regularly at jazz clubs and private functions in and around the GTA for the past 8 years. Denise is a passionate vocalist with deep dark tones and an impeccable sense of rhythm. With experience fronting 2 R&B bands, she playfully infuses her music with musical styles beyond jazz. She and her trio have taken the stage at venues like the Carlu, Ritz-Carleton, The Hard Rock Cafe, Hart House's "Jazz at Oscar's", Gate 403, Ten Feet Tall, Coquine Restaurant, The Trane, Mississauga Golf Club and most recently Islington Golf Club. Denise completed a new recording named "You Don't Know What Love Is" in the summer of 2012.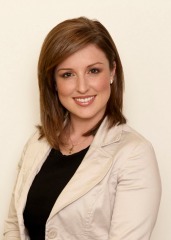 Rosana Filipe is a local singer songwriter with a love for "all that jazz". Her first experience in a band started in high school where she was the first singer, in the first high school jazz band in BC to feature a singer - and thus her passion was born. She has sang in various capacities since then, in choral jazz groups, with smaller bands, as well as writing and recording songs with local hip hop artists. No stranger to the stage, she is also involved in musical theatre, her most recent endeavors being "Fame", "Little Shop of Horrors", and "Little Women" with First Act Productions. Rosana is very excited to be sharing the stage with Mississauga Big Band Jazz Ensemble for a second time, the first of which was at a fundraiser that they graciously performed at aimed at helping youth overseas. Keep an eye for a collection of original work by Rosana coming out in the near future!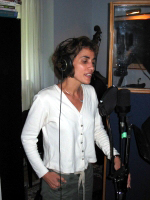 A lover of the arts since the age of six, Nadia Petra has worked professionally in dance, theater and music. Nadia's musical influences stem from her early work as a singer/songwriter in the vibrant folk music community of Ottawa. A career in education resulted in two albums of original songs for children and television spots on CBC's Mr. Dressup and YTV's Take Part. Nadia's love of children and jazz led to another recording project along with a new found inspiration: performing vocal jazz. She has studied with renowned jazz arranger and vocal coach Phil Mattson and Toronto jazz vocalist Rita de Gent. Nadia has performed with the Toronto based vocal jazz choir Oasis. Her musicality, love of jazz standards and deep, alluring voice makes the perfect blend for a vocal jazz artist.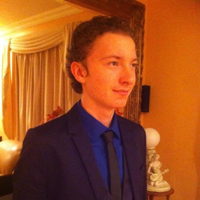 Luc Gaylie is currently a grade ten student at St. Michael's Choir School in Toronto, where daily choral singing is required in preparation for the weekend masses, Holy Day celebrations, concerts and tours. From a very tender age, Luc has enjoyed his gift of music and has exercised it by singing and studying it in a formal environment. At age seven, he started to study piano. He is currently at a level seven RCM. He has been studying drums for the past three years. He currently continues to have formal vocal training, and this past year at school he commenced organ lessons too. His passion for music is coupled with his love of sports, particularly hockey, where he is proud to currently be the Captain of his Erindale hockey team. Luc started playing hockey at the age of six. He played many positions and remained as goalie for many of them. Today he is very happy playing centre, and he is enjoying being a part of an energetic and enthusiastic team. Luc also has a twin sister named Giselle, who has special needs. He enjoys helping her in every way he can. They go skating, swimming and to the gym together.
At The Rex - Feb 16, 2013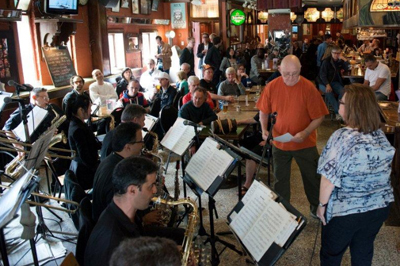 According to Down Beat Magazine (in its 2011 article "150 Great Jazz Venues"), the Rex Hotel is one of the world's elite jazz clubs, featuring a "steady stream of top-notch bands". We're really looking forward to our engagement there on Saturday, February 16th, 2013. It's an evening spot, from 7:00 to 9:00 pm - informal, friendly, loud and boisterous is the vibe. We'll be playing a lot of our best stuff, pulling out the stops, so it should be great fun.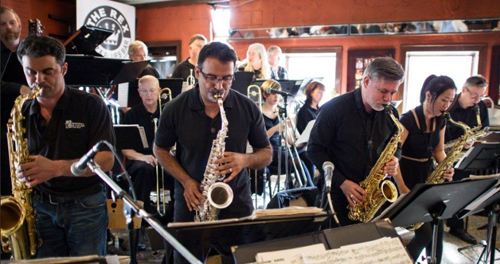 The Rex gives you a perfect opportunity to see the band at close quarters - to feel that you are part of the performance. The photo below may help you to visualize what we're talking about - this is the scene from the bandstand looking out into the pub room during our last matinee...
MBBJE is proud of our discography - we've made five excellent CDs. This page has some details, listings and samples for you - if you agree with our assessment and want to purchase any or all of these fine recordings at $15 each plus postage, please contact Rob by clicking here.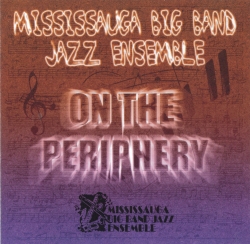 In 2011 the band released "On The Periphery", which captured the highlights of two live performances at Arnold's Sports Bar. This recording is getting extensive media play on various jazz outlets. Personnel:
Saxes - Ben Burke, Sarang Kulkarni, Gary Martin, John Frias, Wayne Smith
Trumpets - Chris Alcantara, James Poulos, Dave Jewett, Rosemary Bennett, Rick Estrella
Trombones - Gerry Wolfe, Jim Williamson, Matt White, Karen Maxwell
Guitar - Wayne Ferrell; Piano - Rob Boniface; Bass - Jim Shears; Drums - Jay Boehmer
Vocals - Catherine MacGregor; Conductor - Bruce Cassidy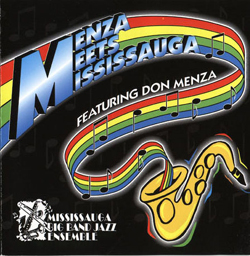 "Menza Meets Mississauga", recorded in 2000, garnered considerable critical acclaim. It featured former Buddy Rich Band tenor sax soloist Don Menza. Mr. Menza took a couple of days out of his busy L.A. session schedule to record some knockout tracks with the band. Personnel:
Saxes - Bruce Wilson, Gary Martin, Brian Rice, Frank Dodman, John Frias, Don Menza
Trumpets - Jim Shea, Bruce Gordon, Rosemary Bennett, Rowly McPherson, John Liddle
Trombones - Jim Williamson, Tom Wallace, Rick Pauze, Karen Maxwell
Guitar - Ed Hooven; Piano - Rob Boniface; Bass - Jim Shears; Drums - Dave MacDougall
Conductor - Jules Estrin
Sample tracks from the CD: Groove Blues
Groovin' Hard
Quartal to Four
---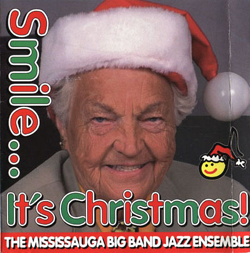 "Smile...It's Christmas", released in 1997 is a perennial favourite for the Holiday Season. Graced with a photo of Mississauga Mayor Hazel McCallion, it never seems to go out of style! Personnel:
Saxes - Bruce Wilson, Gary Martin, Philla Poppa, Dave Worth, John Frias
Trumpets - Jim Shea, Frank Mowat, Rosemary Bennett, Rowly McPherson
Trombones - Jim Williamson, Al Hirsch, Gord Glenn, Tim Jones
Guitar - Terry O'Leary; Piano - Rob Boniface; Bass - Evan Tarleton; Drums - Paul Bannerman
Conductors - Steve Crowe, Don Johnson
Sample tracks from the CD: Jolly Ole St. Nick
Frosty The Snowman
Santa Claus Is Coming to Town
---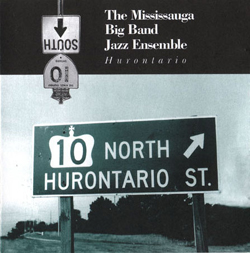 In a more personal vein, our 1993 recording "Hurontario" features original composiions and arrangements by our own band members. Personnel:
Saxes - Bruce Wilson, Gary Martin, Julian Filanowski, Tony Kershaw, John Frias
Trumpets - Jim Shea, Frank Mowat, Rosemary Bennett, Rowly McPherson
Trombones - Jim Williamson, Karl Korody, Laurie Stewart, Tom Wallace
Guitar - Ed Hooven; Piano - Rob Boniface; Bass - Mike McClennan; Drums - John Sciarillo
Percussion - Ken Klettke; Conductor - Don Johnson
Sample tracks from the CD: Cool It
Latin Sunrise
Twilight
---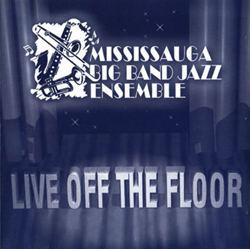 It all started with our inaugural recording, "Live Off The Floor", which is an eclectic sampler of the band's foundation repertoire. Personnel:
Saxes - Bruce Wilson, Dave Erdelyi, Lou Scatton, Diane Brunetta, Scot Mulligan
Trumpets - Don Beaupre, Frank Mowat, Rosemary Bennett, Lino Varano
Trombones - Jim Williamson, Mark Pepper, Laurie Stewart, Tom Wallace
Guitar - Ed Hooven; Piano - Rob Boniface; Bass - Tony Collarile; Drums - John Sciarillo
Vocals- Catharine McGregor
Sample tracks from the CD: In The Mood
Fever
Woikin' It
Remember - all of these CD's are available through Rob via our Contact page.